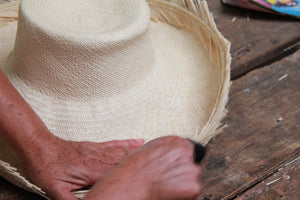 Ethical Trading Since 1978
Tumia (formally known as Tumi) was founded in the UK in 1978 promoting fair trade crafts and goods with Latin America. We've worked with our hat makers in Ecuador for many years and ensure that we pay fair wages (set by our partners), provide good working conditions and look to provide a sustainable future for our workers.
Hand woven in Ecuador and finished by our experts in Bristol, England.